Welcome
Survival
and
Astronomy
pages are in the
archive
, I will get round to setting them up properly but time is against me lately!
Wed, 20 Mar 2019 11:57:36 GMT Knife Crime and the ineptitude of the UK police and politicians
Knife crime has been in the news for many years now, we have had more legislation year upon year yes knife crime still rises.. Why are the politicians and police so ineffectual?? Take a look at this picture: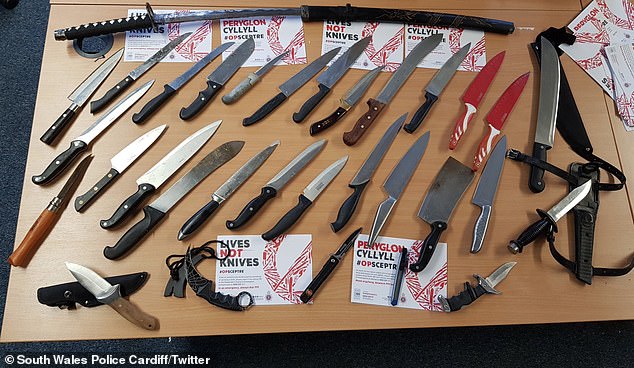 Can you see why the policies of banning items based on how they look or how they might be used or how they might encourage this or that was perhaps, not the smartest thing?? Look at the picture - what do you see??
1 Sword
1 Machete
2 Combat knives
1 Hunting knife
23 Kitchen knives
....
Full Story - 0 Comments
-----
Thu, 28 Feb 2019 15:39:23 GMT MyISAM vs InnoDB Swapping from one to the other
While pretty much defunct at this point as innodb_file_per_table is the default setting now, from a flexibility point of view and if the deployment circumstances require you to use InnoDB innodb_file_per_table is the best way to go. This will allow you to move table files around if required. Using a global table space on a per server basis means that all the tables in all the database have metadata stored in /var/lib/mysql/innodb. That file can grow quite large and never EVER shrinks back down again (Linux software is becomming more and more windowsey by the day). Using innodb_file_per_table at least swaps a massive (potentially hundreds of gigabytes) file for smaller individuals and has the already mentioned added advantage that you can move tables and databases around at will! With system table space you have to move or restore the ENTIRE /var/lib/mysql directory or risk the frustrating "table already doesn't exsist but isn't there but is there" issue..
Swapping from system table space to innodb_file_per_table:
First we enable innodb_file_per_table.
emacs /etc/my.cnf
[mysqld]
innodb_file_per_table = 1
....
Full Story - 0 Comments
-----
Tue, 08 Jan 2019 09:34:43 GMT The group policy client failed the sign-in login
Yet another mystical error message generated by windows that gives you absolutely nothing to work with aside from a google search
I google searched:
The group policy client failed the sign-in login
and tried a couple of the fixes offered there to no avail so I just did a system restore.. Problem solved!
Full Story - 0 Comments
-----
Wed, 19 Dec 2018 09:27:29 GMT Exim or Sendmail 55 Relay Not Permitted
Relay not Permitted is normally an authentication error.. Check your mail client to make sure you have the option "Sending requires authentication" enabled!
Do bare in mind. Relay not permitted is NOT the same as relaying denied!
Full Story - 0 Comments
-----
Wed, 28 Nov 2018 11:31:02 GMT Some Useful Real World rsync Commands
Rsync is something every linux user should learn and at least try to commit to memory.. It's come in handy to me over and over and today I find myself in yet another situation where I need rsync to save me a shit load of manual messing around.
Basic Syntax
rsync [options] source destination
Common Options:
- v = Be verbose (You knew that didn't you)
-r = Be recursive
-a = archive mode, preserves everything it can and allows recursive
-z = compress data
-h = Human readable output
I tend to use rsync in the same way every time so I don't have to reference the man page each time I use it. To that end:
Sync Remote Directory to Local:
rsync -avhz root@there:/path/to/files /local/path/to/files
Keep in mind the slashes matter. Adding slashes to the end changes the way rsync saves the files locally if you DON'T add slashes rsync will save the directory so in the above example rsync will create a directory in /local/path/to/files - if you add a slash to the end it will save to /local/path/to/files.. Works a bit like the * wildcard on file copies!
....
Full Story - 1 Comments
-----
Wed, 11 Jul 2018 10:31:31 +0100 Starting a program from a batch file then automatically close the cmd cli window
This is handy.. It's based on the DOS start command but you might find when you just use:
start "program pathprogram name"
you will end up with a cmd window staring at you not doing anything and your program hasn't started.
Try:
start "" "program pathprogram name"

Full Story - 0 Comments
-----
Mon, 25 Jun 2018 11:03:40 +0100 Gmail marking entire domain as spam?? Gmail marking lots of non spam messages as spam?
Is Gmail marking entire domain as spam?? Gmail marking lots of non spam messages as spam? Even after you've told it that particular address is NOT SPAM..
Ask yourself why they would do that!
If your emails are being marked as spam by gmail and your client checks their spam box AND marks your email address as NOT SPAM then gmail continues to spam that email address there is really only one reason isn't there?? There is also only one way to fix it!
You have to use gmail to send to gmail account because gmail is marking you as spam for no reason other than google wants internat supremacy!!!!
Full Story - 0 Comments
-----
Wed, 17 Jan 2018 15:36:13 GMT Dover Castle Visti
Me and Mrs Geake visited Dover castle just last week end.. A cold and windy day it was but fun was had by all! We walked almost 6 miles in one day up and down hill! I would recommend a visit to anyone that doesn't mind a bit of walking and at 20 quid a head, it's none to expensive either (if you take a packed lunch or bag of fruit)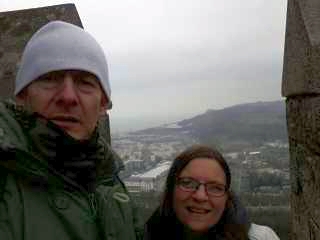 Full Story - 0 Comments
-----
Fri, 23 Jun 2017 14:08:03 +0100 Batch file or Perl script not working in task scheduler
I've come across this problem a couple of times over the last few weeks. It boiled down to, on both occasions, the use of mapped network drives IE; copying files across a network!
Microsoft is not a CLI friendly OS and to that end a drive mapped to z: for example is not an actual real drive unless the user is logged on and the drive is mapped.
When Task Scheduler runs a task it seems it only creates a minimal shell for that task to run in and that does not include enabling mapped drives.
You batch file will run find when you manually run it but just won't work when you schedule it and this is the reason why.
To stop this issue don't use the mapped drive letter use the full UNC path AND make sure the user running the task has the correct permissions to do what ever it is your batch file us trying to do!
Full Story - 0 Comments
-----
Wed, 01 Mar 2017 11:14:12 GMT Distribution Independent Auto Login To X:
The first thing people say when you talk about auto logging in to a computer of any kind is "Don't do that, it's dangerous!". What the hell do they know? If I want auto login on a linux box independent of distro that's what I'll do! Anyway, on with it.
Back in the day this was a pretty easy thing to do, some distros came with auto login out of the box, these days, as with many things, it's not quite so easy! Too many distros and developers think they know better than you so they remove functionality from programs willy nilly then when people complain about it, they say "It's a feature." (look at gnome 3, steaming pile of piss that is). These people think thare are leaders in their field but they are just another generation standing on the shoulders of the one before beleiveing that they are making a difference. They are, but it's most a change for the worst!
So, how to enable auto login, first, open /etc/inittab (ahh, do you use a distro with systemd?? You can stop reading here and find another way) and modify one of the lines that looks like this:
c3:12345:respawn:/sbin/agetty 38400 tty3 linux
To look like this:
c3:12345:respawn:/sbin/agetty --autologin USERNAME tty3
....
Full Story - 0 Comments
-----