Honda NC700X (Manual Gearbox)
WIP!
Introduction
Early in 2015 I lost a long term self employment contract and had to search for full time work quick sharp. After a couple of months I found a job relatively locally but the probationary pay would not allow me to drive my car to work every day. Something had to be done! I instantly knew I'd get better economy and performance from a bike and decided that was the way to go. After a wee tad of research I found there is a Honda out there that can do 50MPG+ and still attain semi decent motorway speeds, the Honda NC700. As luck would have it the local bikeshop had a used 13 plate in stock with just 10k on the clock. £3995 vouchers later and I'm the proud owner of a Honda NC700X.
Quick Specs
| | |
| --- | --- |
| CC | 670 |
| Engine Type | Liquid-cooled, four stroke , Parallel twin, SOHC, 4 valves per cylinder |
| Max Power | 38.1 kW 51.1 hp @ 6250 rpm |
| Max Torque | 62 Nm 46 lb/ft @ 4750 rpm |
| Kerb Weight (No Fuel) | 238 kg / 520 lb |
Ride Quality
The ride quality is not that great but it's good enough for day to day travel. In a machine such as this compromises have to be made and I guess Honda have leaned to towards keeping the cost down. The bikes weight adds to its slow feel, it doesn't turn in particularly quickly nor does it stand back up that well either but all round it seems fine. It could be a bit of a handfull for a smaller lighter rider (I'm 6'3" and 13 stone). Altogether though it's a safe ride, I've had a couple of moments when I first started riding it but I'm settling in to it and I enjoyu each ride more and more.
Noise
When I bought this bike it had a Puig touring screen which seemed to be a major contributor to wind noise and buffeting. After being forced to wear ear plugs (something I don't like doing) I decided to move the screen up to it's highest settings which turned out to be a mistake. It stopped the buffeting and the double vision the buffeting creates but turned the wind noise into a howling road that even ear plugs couldn't quiet! As an temporary alternative I removed the screen altogether with removed 90% of the noise and completely removed the buffeting. I do now suffer from what I can only describe as "the hand of god" pressing on my chest at speeds above 60MPH. This effect is about 100 times more acceptable than the noises and buffeting. I have now sourced an original screen (see gallery) that is about one third the height of the Puig and hopefully it will be a middle of the road thing that will eliminate tmost of the noise and buffeting and relive the hand of god.
Conclusion
Gallery
A gallery of motocycle pictures! At the time of taking I'd not stopped off at the jetwash on the way home as it wass pissing down with rain hence the dirt!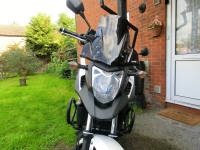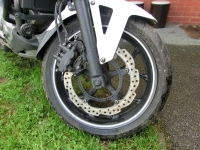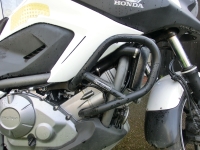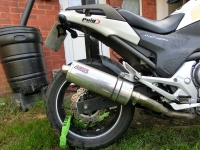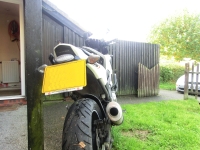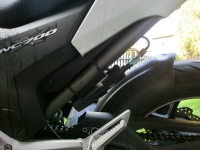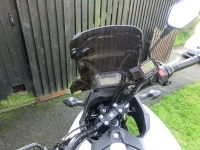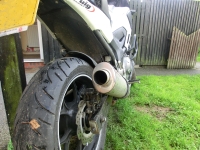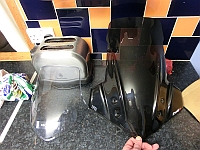 Links
The Bike Shop Faversham
NC700 Owners Forum UK
Comments
---