ETX-90EC Maksutov Cassegrain Telescope Review
My astronomical experience
I have, in the last 3 years gained more and more experience with telescopes and all fields of astronomy. Although i am hardly a professional i do have a very good working knowledge of telescope types and use as well as observing practices. I have been using all the equipment mentioned on this site along with other equipment at star parties. Read on for the first section of my review.
ETX-90EC technical specification
Aperture = 90mm
Focal Length = 1250mm
Focal Ration = f/13.8
Aluminum tube assembly
8x25 Right Angle Finder(must be replaced)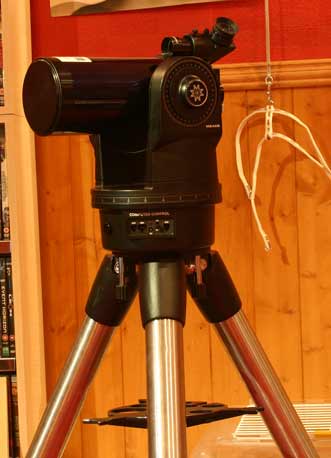 155K
The Journey
The ETX-90EC was purchased second have from an advert placed in astrobuysell.com. A trip to Slough(Sloth, Sloo, Slow) was required to pick up the scope. This time the journey was almost trouble free, accept of course the M25 near heathrow!!!
My first observing session
Again, as with all my other astronomical purchases and completely conflicting to the law of Murphy, the sky was clear enough for me to actually try the scope on the day of purchase!!! Easy align went without a problem, luckily it picked Castor and Vega, two stars i know!! (ust memorise some stars to make alignment easier!!!) I used a 40mm ep(30X) so it wasnt to accurate but 2 of the targets where in view. The others where only a tiny bit out!
At 30X visually, M31 Looked like M31, a grey smudge..One day i WILL look at M31 and see it for what it is!!! Althoug not with a 90mm scope. The moon looked clear and focused quickly.. Although only 2 days off full the detail was fine.. More magnificatiion would most likely cause break up but i will wait until the moon is smaller, its painfully bright at the moment!! Mars is just a featurless disc at this magnification. At 48X however, Mars has a dark patch in the middle, as it should according to the simulation i ran before leaving. There is a cold wind blowing and its making my eyes water so it hard to focus properly but there is definately detail there!!! Back to 30X the double cluter in perseus is looking rather un-impressive but, it is only a 90mm scope and the moon is blindingly bright!!! That said the stars focus to pin points, which is nice.. Alberio looks good, good dark(well, grey) gap between the elements, colours look spot on and focus is also spot on!!!
My first impressions of this scope are quite positive. I used to own a Meade DS2114 that was a bad performer and also had the disadvantage of being my first scope, read more here. That scope put me off this kind of budget go-to contraption. The ETX-90EC has, however positively improved my opinion of at least Meade if not other manufacturers of this kind of kit. The ETX is indeed a very good optical performer even if i am making my judgements on a very short session!
Author:
Robert Geake
robert@thegeakes.co.uk
Subject:
ETX-90EC
Date:
2005-11-18
Rev:
0.1